!- Converted with LaTeX2HTML 0.6.4 (Tues Aug 30 1994) by Nikos Drakos (nikos@cbl.leeds.ac.uk), CBLU, University of Leeds ->
---
Next:
MINLOC and MAXLOC
Up:
Global Reduction Operations
Previous:
Reduce
---
The following predefined operations are supplied for MPI_REDUCE and related functions MPI_ALLREDUCE, MPI_REDUCE_SCATTER, and MPI_SCAN. These operations are invoked by placing the following in op.
reduce, list of operations MPI_MAX MPI_MIN MPI_SUM MPI_PROD MPI_LAND MPI_BAND MPI_LOR MPI_BOR MPI_BXOR MPI_MAXLOC MPI_MINLOC MPI_LXOR
The two operations MPI_MINLOC and MPI_MAXLOC are discussed separately in Section
. For the other predefined operations, we enumerate below the allowed combinations of op and datatype arguments. First, define groups of MPI basic datatypes in the following way.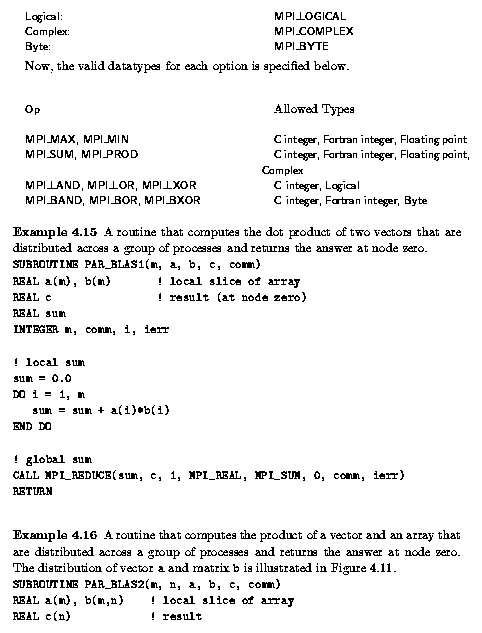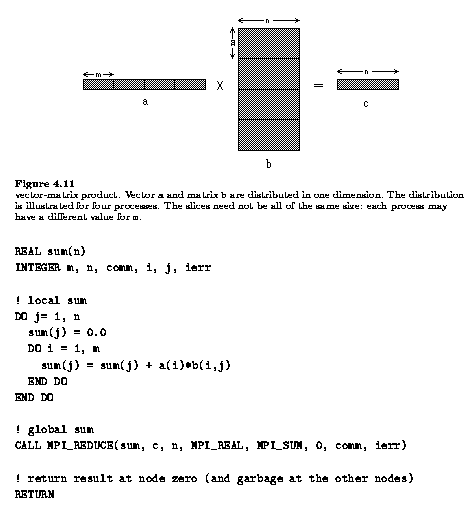 ---
Jack Dongarra
Fri Sep 1 06:16:55 EDT 1995